Health First
This past season, our hotel operated under some unfavorable and trialsome circumstances. Likewise the tourism industry, we faced the unprecedented impact of the coronavirus pandemic, however, we managed to provide you a safe and memorable stay at beautiful Santorini.
We want to reassure you once again that we take standards for hygiene and cleanliness very seriously and that we will continue implementing additional hygiene procedures to ensure the health and safety of our guests as well as our own team.
For the upcoming season, with the experience acquired after this demanding past season, we are all set and we look forward to continuing to welcome all of our valued guests and provide them the carefree and joyful vacations they have always been dreaming of. Book your summer 2021 holidays directly and take advantage of our exclusive offers and the lowest prices! 
 
ENJOY A SAFE STAY 
Dear Guests, 
As it has always been, the safety and security of our guests and staff remain our highest priority. We have been closely monitoring the updates from the World Health Organization (WHO), the Greek Ministry of Health, and the Greek Ministry of Tourism, as well as the Greek government's guidelines regarding the protection from the covid-19.
On a daily basis, our management and staff are working hard to ensure that our hotel meets the latest guidance on hygiene and cleaning. We follow all the rules and we are in compliance with the official hygiene & safety protocols issued by the Greek Authorities. 
Please take a few moments and read carefully the below measures and instructions: 
1. Health inspection certificates
Safety protocols are in placed. Our hotel is certified & follows the Government's guidelines.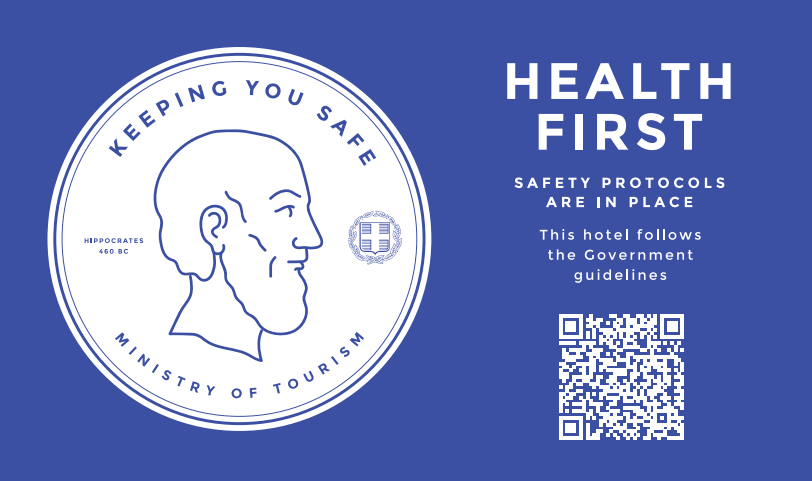 2. Cleaning Protocols & Products / Housekeeping
We use cleaning products and hygiene protocols of the highest international standards.
Guest Rooms
Use of disinfecting products and health protocols to clean rooms, with a particular focus on high-touch items. 
Hotel folders and similar stuff have been removed from our rooms for safety reasons. 
Room cleaning service will be provided upon request, as well as the change of linen and towels,  according to safety protocols, in order to eliminate contact as much as possible, for your and your company's safety. We advise our guests to inform us how often or when they wish us to arrange their room cleaned. 
Public Spaces 
We have increased the frequency of cleaning and disinfecting in the hotel's public spaces such as the reception ,door handles,public bathrooms and room keys, to name a few.
Our textiles and towels are washed over 70o and treated according to safety protocols. 
Hand disinfectants can be found in all common areas.
3. Check-in & Check-out Policy
According to the new regulations, the check-in time is altered to 15:00 pm and the check-out to 11:00 am, so each room will be cleaned, disinfected and aired properly.
4. Breakfast Services 
We follow the HACCP principles, in every step of any procedure.
Our staff is properly trained and follow the safety protocols in delivery processes.
5. Social Distancing Rules
We inform and encourage all our guests to keep the appropriate social distancing rules indoors and outdoors of our premises.
Contactless payment options are encouraged & available.
6. Cooperative Doctor
Our property cooperates with a Doctor (well trained and certificated also for COVID-19 cases), who is responsible for any possible case of our in house guests 24/7.
7. Transfer Services
All the transfer which are arranged through our concierge department before the arrival or as an in-house guest, will take place under the health and safety regulations.
Maximum number of guests -depending on the vehicle
Appropriate cleaning procedure -of the vehicle before and after the service
Please note that: 
It is your responsibility to report to our staff any symptoms you might have, even if they are minor. 
It is your responsibility to report us if you think that you have been in contact with a possibly infected person.
The above measures are valid until further notice and may be updated following the instructions issued by the Greek government. Enjoy a SAFE STAY!